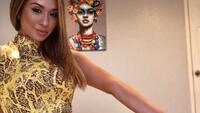 Look, I am only writing this to get more gifts and more WORSHIPERS.  Because that is what I DESERVE, and I KNOW it.  I want gifts sent to me left & right and I want money sent to me by idiots that know they are beneath me and would never be good enough to date me.  Maybe if you send me enough, I will actually consider using you as one of my personal slaves.  But that involves giving me a LOT of $$$, doing WHATEVER the fuck I say at the snap of my fingers, and even obeying orders from the guys I'm dating if I really feel like humiliating the fuck out of you.
So what are like my "faves" when it comes to using and abusing losers?  Basically I just love the power-trip of it all.  I love making some old man with money and power grovel at my feet and literally WORSHIP me as the divine being that I have come to learn that I am. Then walking all over them and humiliating them - yes, even in public - and having them just ACCEPT that I am treating them like doggsh*t because we BOTH know I am totally out of their league.  I think its fucking great that I can tell you idiots right to your faces the things that I REALLY think about you, but couldn't normally say in "polite society".  Like that "you are a worthless reject that I want nothing from other than your money", spit right in your face, kick you in the balls, and then walk away arm-in-arm with my BF while counting your money and laughing- and all idiots like you will do is crawl after me, kissing the ground I walk on, and begging to give me even MORE $$$.  LOL
Oh, and I actually love footworship if its done right by a good slave.  And ballkicking.  That never gets old.  Again, it is just about the power trip for me though.  There is something about making some old-man loser kneel before you and spread its legs wiiiide for you...leaving its "precious" little balls TOTALLY vulnerable....and just letting you run up and kick its nutsack as hard as you want over & over.  HAHAHA.  While you tell it right to its face what an IDIOT it is for letting you do this to them and that they literally mean NOTHING to you.  Even better if they are PAYING you for it LOL.
Anyways contact me if you are ready to do WHATEVER I say and gimme all your $$$$ loser.  My WISHLIST is the best place to start to get my attention!! -->   https://www.amazon.com/hz/wishlist/ls/ACQKS80ELN9R?ref_=wl_share
And my personal OnlyFans:  https://onlyfans.com/lexichase