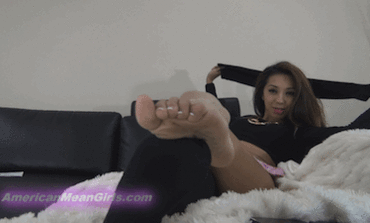 Ok, this should be a SERIOUS challenge for all you addicted foot-freak masturbation addicts out there. LOL.
I am giving you the ULTIMATE reward, slave- and the ultimate TORTURRE at the same time! LOL. I am just going to be sitting here watching a show online while I IGNORE you. (Mostly) And you HAVE to remain kneeling before Me - at My FEET where you BELONG! - just STARING at My perfect feet and stroking your cock for the ENTIRE time I am watching My show. And its an HOUR fucking long! LOL. That's right- you are to remain there, with your face just inches from My perfect feet, keeping your cock right on the edge of orgasm for an ENTIRE HOUR! Every once in awhile I will actually acknowledge you though- and totally mock you for being so pathetic. I might even let you cum early…but probably not. LOL.
Tell you what....if you make it ALLL the way to the end of My show and don't cum until the end when I FINALLY give you a cum countdown and MY official permission, then I won't penalize you. You can cum all you want for being such a good, obedient footslave. But if ANY of you losers DO cum before the end of this ONE-HOUR LONG clip- you WILL pay Me a cum-tax tribute!
Now, download, KNEEL, and start stroking! I want a worship puddle made at My feet in dedication to MY beauty…but not until I SAY SO!
-PJenn
* To download this individual clip, click the "Add to Cart" button. (All clips are only $10.)PAYMENT FOR INDIVIDUAL CLIP DOWNLOADS ONLY PROCESSED VIA BITCOIN AT THIS TIME.