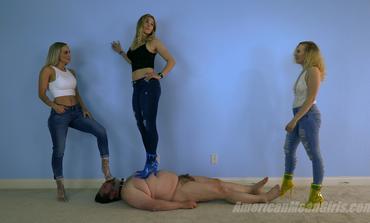 Since Princess Amber's real life 18 year old little sister, Goddess Maci is our brand new Mean Girl we have to teach her how to walk all over slaves... Literally! Lol!!!!
We of course had to teach Goddess Maci how to trample on our biggest slave. The bigger the target, the easier it is. (But not for the slave!!!) Hahaha!
We had our very obedient, very fat slave, laying down waiting for us like a good little pet would. Princess Amber and I walked Goddess Maci on in and taught her how to trample like a Goddess, from step 1! Hehehe 
I had Princess Amber demonstrate, for her little sister how trampling is done. Then we held Goddess Maci's hand and let her hop on. She was a little shaky at first but by the end of our trample session it was like Goddess Maci had trampled a million slaves in her lifetime... Even though this was her very first attempt at trampling.
I swear Goddess Maci was born to be a Goddess, we know it's in her genes... They both get it from their Aunt! MOI! It feels so perfect now that I have both my gorgeous nieces with me in the, now, Family Business!!!
I hope you enjoy watching Goddess Maci learn the ropes. I know she is having the time of her life. This is only the beginning, and it going to be AMAZING!!!!
Goddess Platinum