Amber & Alexandria Girl Talk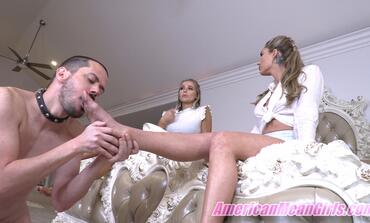 It's been such an eventful summer at the new Mean Girl Manor! We've made A TON of content, used SO MANY losers for our personal use, and of course made LOTS OF MONEY! Living in such a big house, it's easy to miss some of the Mean Girls in passing, so I made it a point to catch up with Princess Alexandria when I ran into her. We gossiped about all the losers that are obsessed with us (Like foot freaks at the nail salon LOL) We talked about all the new slaves we've collected in the recent months, and how we've used them to make us MORE MONEY! …Selling out used socks and panties. Like no wonder we barley see each other, we've been CRAZY busy!
I forget that mutt is at my feet and decide he needs to be doing SOMETHING other than staring at our perfectly pedicured feet. I command mutt to lick out toes, to clean any dirt or sweat off of them. Princess Alexandria and I carry on with our conversations and discuss business. Most guys probably think all we talk about is our hair and nails, but at the Mean Girl Manor we talk about money… ALOT! How much we're making, how to take MORE, and strategies for exploiting NEW losers. Hot girls don't have to work as hard as these losers, but it's important that we know how to delegate so we can get the most out of them! Lol  
Speaking of which….. this mutt should be PAYING US for this privilege, now where's it's wallet.
-PRINCESS AMBER
* To download this individual clip, click the "Add to Cart" button. (All clips are only $10.)PAYMENT FOR INDIVIDUAL CLIP DOWNLOADS ONLY PROCESSED VIA BITCOIN AT THIS TIME.