Amber and Skylar Teach 'No Nuts' Foot Worship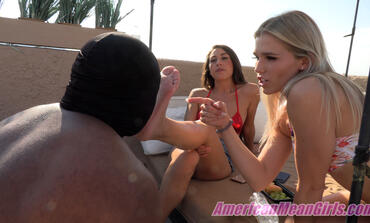 Princess Amber and I had just destroyed this loser's balls while wearing our sneakers! He flew all the way to Vegas just to SERVE US at the Manor and present his beta balls to be busted! He told us he isn't really into foot worship (AND HAS NEVER EVEN DONE IT BEFORE) But we explained to him that although we love ball-busting, you can't be a good slave if you don't worship our feet!
Desperate to serve, this freak kneeled before us and learned what foot worship is all about (US! HAHA) I made this pathetic loser pull of my sneakers and SMELL the stink out of them! Hahahaha It was hilarious to watch his face! You could see the fear in his eyes as he sniffed my stinkiest sneakers, before moving on to my feet. With every sniff, he became more and more addicted to them! Developing a fetish he NEVER even had before coming to the Mean Girl Manor HAHAHAHA
Amber worked on her tan while allowing her feet to get EVEN SWEATIER. (She just loves it when the sweat drips off her feet and then makes a slave lick it all off) She explained to this new loser how worship my feet the right way! Up and down the soles, licking in between each toe… sucking on the heel. By the time he was done, there wasn't a single spot on my feet that hadn't been worshiped! His mouth was sooooo tired from cleaning my perfect sweaty feet! But just when he thought he was getting a break, Princess Amber told him "MY TURN!" And instructed him to clean hers next! HAHAHA
- Princess Skylar
* To download this individual clip, click the "Add to Cart" button. (All clips are only $10.)PAYMENT FOR INDIVIDUAL CLIP DOWNLOADS ONLY PROCESSED VIA BITCOIN AT THIS TIME.