Another Brick In The Wall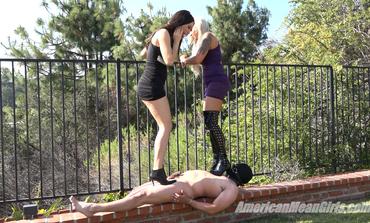 Goddess Nina and Goddess Harley have trampled this slave so many times already that they need to find a new way to mix things up. So this time they will trample the slave on bricks to make it even more painful for him. The slave is positioned face up across the top of the low and narrow brick wall in the back yard of Mean Girl Manor. Goddess Nina steps up onto the slave and balances the full weight of her high heels right on his sensitive inner thighs. Next Goddess Harley steps onto the center of the slave's chest with her high heels sinking deeply into his flesh. With the slave now supporting the full weight of both Goddesses they begin bouncing up and down on the slave and grinding their sharp high heels into his skin deeper and deeper. The gagged slave moans out in obvious pain below them, but the Goddesses pay no attention to his muffled screams.
This is probably one of the hardest trampling clips available anywhere on clips4sale. Goddess Nina and Goddess Harley trample the slave without mercy as they seek to take him to new levels of pain. At various points the Goddesses step off the slave to admire the puncture marks their heels are leaving embedded all over the slave's body. They also comment on the damage their heels are causing. What was that cracking noise? Was that cartilage? Bone? His ribs? I don't know but something's cracking. This is a must buy clip for hardcore trampling fans!
* To download this individual clip, click the "Add to Cart" button. (All clips are only $10.)PAYMENT FOR INDIVIDUAL CLIP DOWNLOADS ONLY PROCESSED VIA BITCOIN AT THIS TIME.