Awww...So You Want To eat?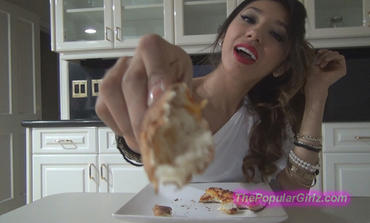 *Another paid custom request!*
The clip should be mostly playful and teasing POV, with the scene take place at a table. You greet me with a kiss on the forehead. When I try to wipe the lipstick off, you tell me to "leave it alone" in a strict tone. There's a plate of leftover pizza crusts on the table. You ask if i want them. When i reach my hand for them, you slap my hand and say "No! I'll say when you can have it."
You tease me with one of the crusts, asking me if I'm hungry. You get the crust close to me then pull it away. You do this 4 or 5 times, laughing each time, and then i get angry at being teased and stop trying. (for one of the teases, talk like you're feeding a baby) "Do it" you tell me sharply. I try again and you pull it away at the last second and eat it yourself. "See how easy it is?" you say.
Scene ends with you dumping the crusts in the trash and telling me to wash the dirty plate. Please wear a lot of rings and bracelets, a ponytail and a classy sheath dress if possible.
* To download this individual clip, click the "Add to Cart" button. (All clips are only $10.)PAYMENT FOR INDIVIDUAL CLIP DOWNLOADS ONLY PROCESSED VIA BITCOIN AT THIS TIME.