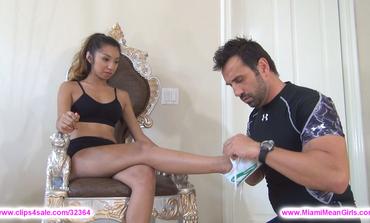 "princess Jennifer is the girlfriend of a big mafia boss. And she keeps catching her personal trainer ogling her at the gym while they are working out. AND he doesn't do everything she says fast enough at the gym either! (Like putting her weights away and cleaning her equipment when she is done using it.) So she calls him in and threatens to have her boyfriend fire him. (And maybe have him "whacked"?)
The big muscle-bound loser ends up groveling at Princess Jennifer's feet - WORSHIPPING them as he begs for her to be quiet and let him keep his job! Then she slaps him over and over across the face to remind him of his place and let him know that she can do ANYTHING she wants to him!"
* To download this individual clip, click the "Add to Cart" button. (All clips are only $10.)PAYMENT FOR INDIVIDUAL CLIP DOWNLOADS ONLY PROCESSED VIA BITCOIN AT THIS TIME.