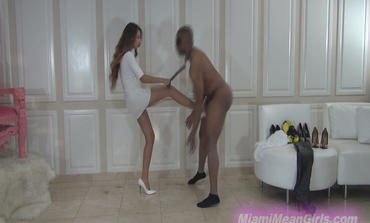 This is a real-life "fan" of Ours that wrote in begging to be in Our ballbusting videos and bragging about how it thought that it could "take whatever We dish out". So We made it send in its $100 amazon GC as a deposit to make sure it showed up, then gave it a chance to "put its money where its mouth is" and earn it back with its balls! Its very simple, you see. If you show up and take a good ballkicking from Us, its FREE! You get your $ back. If you DON'T...well, whatch this video and you will see! LOL.
After a few minutes, this "big, tough guy" falls on the ground and actually starts crying! The pussy actually gives up and practically runs out of the house because it couldn't take it! (Can you believe that? We are NOT making this up!) Then, it has the nerve to actually come crawling back about 15 minutes later! So I give it another chance after it begs, and then give it a few more good and proper kicks to the balls with My white pointy-toed pumps and it squealed!
-Princess Jennifer
* To download this individual clip, click the "Add to Cart" button. (All clips are only $10.)PAYMENT FOR INDIVIDUAL CLIP DOWNLOADS ONLY PROCESSED VIA BITCOIN AT THIS TIME.