Ball Torture with Pins and Whips (AMG Exclusive!)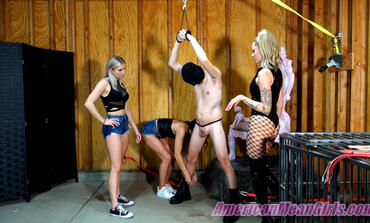 I truly enjoy testing the limits of my slaves in the most painful and creative ways. I handpick only the best and most loyal subs for me to abuse so that I can use them however I see fit. Nothing is more satisfying to me than inflicting the most pain on a sub as they beg me for mercy. Princess amber and princess Skylar had no idea how painful these pins could be to a slave!
I was so excited to show them some new techniques to train their slaves to become even MORE obedient. Amber and Skylar laugh as we cover this loser's nut sack and nipples with piercing clamps. Every time another pin goes on his balls, another excruciating scream comes out! Once us Mean Girls have applied ALL of the pins to his sensitive parts, I encourage Amber and Skylar to knock them off with a crop. This causes the slave even MORE PAIN! HAHAHAH We all laugh as he struggles in his restraints, crying out for mercy. (I don't like to give in too easily when a slave cries) Instead I encourage him to take MORE PAIN because it excites me! We all continue to smack the pins off of him before taking turns just whipping his balls into oblivion! It's so funny how much pain my slave endures for me, plus amber and Skylar NEVER get bored of abusing him.
- Princess Alexandria
* To download this individual clip, click the "Add to Cart" button. (All clips are only $10.)PAYMENT FOR INDIVIDUAL CLIP DOWNLOADS ONLY PROCESSED VIA BITCOIN AT THIS TIME.