Ballbusted by Charlotte Stokely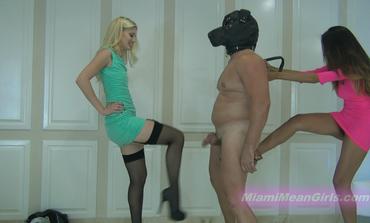 Ahh Yes! This dork has waited in a cage wearing a pathetic mask, just to meet his favorite porn star...ME. He actually thinks he will be able to worship me and maybe more. Well...I'll give him more! How about a good ball-busting, Haha! Awe, you thought I would be kind to a fan? Don't worry..I will throw in a few love taps with my sexy black high heels as I slowly destroy your nuts. However, Empress Jennifer doesn't seem to have time for anything but hard nut blasting annihilation.
-Goddess Charlotte Stokely
* To download this individual clip, click the "Add to Cart" button. (All clips are only $10.)PAYMENT FOR INDIVIDUAL CLIP DOWNLOADS ONLY PROCESSED VIA BITCOIN AT THIS TIME.