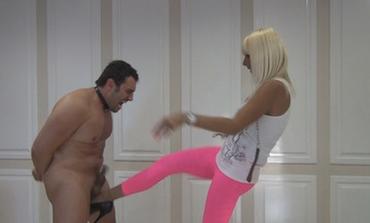 I had so much fun donating My slaves to Princess Jennifer to abuse during her "tryout". :) She is DEFINITELY "mean" enough to be a "Mean Girl"! After a few kicks in the balls to My slave, she asked if it was ok if her step-sister Princess Ivy could get a few kicks in. I told her I couldn't care less what she does with this piece of meat and to "have at it"!
So I left them to have their way with him...and apparently they did quite a number on him! Of course, slaves have no choice but to take the abuse dished out to them. And the shoes Princess Ivy slammed into his balls over and over again were VICIOUS! (COVERED in SHARP metal spikes all over the toe!) This testicular assault actually rivaled anything even My daughter has done to this ballkicking slave! These are some pretty BRUTAL kicks with some very BRUTAL shoes! The girls even make the slave lick his own "red mess" off of the spikes on Princess Ivy's gorgeous shoes! And they just LAUGH at him while making him do it. SOOO cruel! :)
How humiliating it must to be a slave...not to mention painful. LOL.
* To download this individual clip, click the "Add to Cart" button. (All clips are only $10.)PAYMENT FOR INDIVIDUAL CLIP DOWNLOADS ONLY PROCESSED VIA BITCOIN AT THIS TIME.