Be Princess Jennifer's Ashtray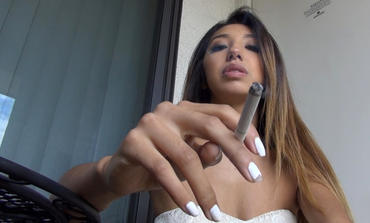 I don't actually smoke cigarettes. But I got a request from a slave that paid Me a LOT of $$$ to smoke one just so her could watch. LOL. Soooo pathetic. Oh, and I keep ashing into the camera so it is just like YOU are being used as MY personal Ashtray! So you BETTER fucking put your face REALLY close to the computer screen at home and open your fucking MOUTH for Me to ASH in, loser!!!
Poplar Girls like ME are so fucking hot that we can USE losers like YOU for whatever we WANT- even if it is as our own personal HUMAN Ashtray. Is there something you want to see me do? Go to My blog on AmericanMeanGirls.com and look Me up, bitch. And MAKE SURE YOU SEND ME SOMETHING OFF MY WISHLIST IF YOU ACTUALLY EXPECT ME TO TALK TO YOU.
-Princess JENNIFER
* To download this individual clip, click the "Add to Cart" button. (All clips are only $10.)PAYMENT FOR INDIVIDUAL CLIP DOWNLOADS ONLY PROCESSED VIA BITCOIN AT THIS TIME.