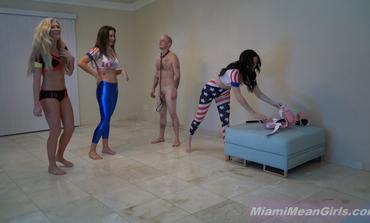 So we are all sitting around talking about how Rhonda Rousey kicks ass- but now that she lost a fight, we think we could probably take her. We just need to practice our MMA skills. And what better way to do that then to practice on a slave! So we drag one out of its cage outside and handcuff its hands behind it back so it cant defend itself. (After all, its not like we would let a slave hit is back or something! LOL.) Then Princess Monica serves as the referee while me and Princess Ashley go back and forth trying to fuck this loser up.
And we really do face-bust this loser right in the face as hard as we can over and over. We punch it in its gut too. (It complained because apparently we broke one of its ribs last time we trampled on him! Haha awww.poor slave. Too bad!) I got pissed at one point because I actually broke a nail while punching this idiot in the face.
These are totally real punches. Ashley really let him have it too. Eventually he gives up haha. So we take turns doing victory poses on his pathetic, scrawny ass.
Goddess Harley