Bish Tried to Steal a Kiss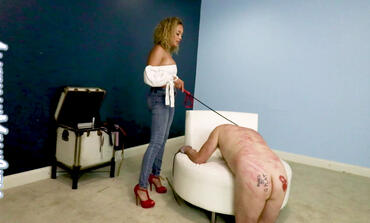 This old man, fuck does he have some nerve. Going where he isn't supposed to, and doing things he's not allowed.  So now it's time for the payback.  
I locked this senior citizen to a heavy chair in the basement of the Manor and took out My frustrations on it.  Stupid thing thinks it can live how it likes and listen as occasionally as it feels necessary.  Oh hell no that ain't going to fly.  It's MY WORLD, and this lil bitch is just lucky to live in it...  
So I started with the bamboo cane, all across its back, legs, and until I broke the thing hitting its feet Bastinado-Style.  One cane broke, another dozen to go bitch.  For 20 minutes I beat this thing.  Canes, crops, and whatever else I grabbed from the trunk of toys.  Hitting it right across its freshly branded ass.  Watch as it flops around like a fish out of water.  And see why none of the loser's at the Manor ever want to get on My bad side.  
$$$ Goddess Draya $$$
* To download this individual clip, click the "Add to Cart" button. (All clips are only $10.)PAYMENT FOR INDIVIDUAL CLIP DOWNLOADS ONLY PROCESSED VIA BITCOIN AT THIS TIME.