Boot Worship for Your Life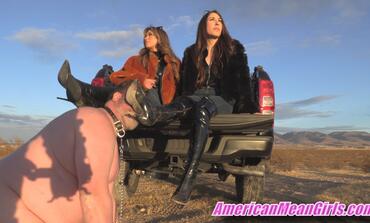 This fat slave is brought faaar out into the desert- where it will need to worship Lexi and Skylar's boots, licking ALL of the sand and dirt off.  And it will need to do it like its pathetic life depends on it- because it DOES! 
We intentionally walk around in the desert dust and dirt, getting our boots nice and FILTHY. Then we command this fat old slave to LICK THEM CLEAN! If it doesn't do a good enough job, we may just drive off and leave it out here in the desert, naked fat and afraid as night falls....
STARRING: Princess Skylar and Lexi Chase
* To download this individual clip, click the "Add to Cart" button. (All clips are only $10.)PAYMENT FOR INDIVIDUAL CLIP DOWNLOADS ONLY PROCESSED VIA BITCOIN AT THIS TIME.