Cucks in Chastity Pay to Cum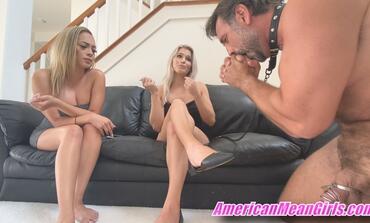 So this pathetic slave has been locked up for ages and constantly wimpering and begging to be of use and maybe be let out of chastity.  But frankly, what benefit do I receive by letting it out to "release" itself?  That is always the most important question.  And this overgrown hairy loser is about to find out the exorbitant cost associated with being My Chastity Cuckie-slut, and keeping Myself and those closest to Me happy.  
So right as Goddess Draya was getting home and started chatting with Me in the living room, I decided to make a little "show" out of this loser's humiliation. I dragged it out of the cage in the corner and tormented it with the key to its locked cock dangling around My perfect ankle.  You could literally see the tears welling up in its eyes as it begged and pleaded to be released.  But before I would let it release its cuckie-cock, I had Goddess Draya pull out a new agreement for it to sign.  After the thing heard what it would be obligated to do if it decided to take off it's cage, it sat wavering for a few moments before completely breaking down, signing its life away, and rushing to get its cage off.  
But that wasn't even the worst of it for this loser.  No, We both humiliated and degraded it as it stroked and lusted after Our feet and shoes... Watch as We treat this thing like the garbage it is and destroy any masculinity it might have had left before We fed it a special little meal after it made its mess.  
<3 Princess Amber <3
* To download this individual clip, click the "Add to Cart" button. (All clips are only $10.)PAYMENT FOR INDIVIDUAL CLIP DOWNLOADS ONLY PROCESSED VIA BITCOIN AT THIS TIME.