Droopy Dawg Digs Draya's Divine Digits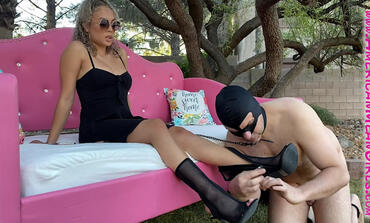 I've been living at the Manor a little over six months now, and the one thing that still blows My mind everyday is just how ridiculously pathetic you loser bitches are that come here to get abused by Us.  Take this droopy dawg slave here, after having its ass beat ruthlessly earlier in the day by Me, it finally got to get its reward.   
LMFAO. REWARD MY ASS... all this bitch got was to take off My heels, and then to beg to be allowed to massage, worship and adore My perfect little peds.  You can see how frightened and stiff this thing is and hw its back is still all welted and red from being beaten earlier. Now come on over boy, and suck on My big toe while you play with the middle... 
$$$ Goddess Draya $$$
* To download this individual clip, click the "Add to Cart" button. (All clips are only $10.)PAYMENT FOR INDIVIDUAL CLIP DOWNLOADS ONLY PROCESSED VIA BITCOIN AT THIS TIME.