Feet At The End Of The Day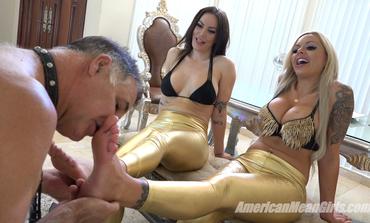 The slave has just finished his long list of chores for the day and comes crawling into the room to ask Goddess Nina and Goddess Harley if there is anything else the Goddesses want before he goes back into his cage. Goddess Nina says that her feet have gotten sweaty in the thigh high boots she's been wearing all day and instructs the slave to lick the sweat off her feet. The slave removes Goddess Nina's boots and is made to sniff her sweaty socks before he gets the privilege of licking her feet. Goddess Harley says her feet are uncomfortable too and has the slave start giving her a foot rub. The slave is now licking and massaging the feet of both Goddesses at once. They laugh about how they can literally make the slave do anything. Goddess Nina makes the slave lick and swallow lint between her toes telling the slave that her toe lint is his dinner tonight! Goddess Harley makes the slave deep throat her foot until he is gagging on it like he's choking on a big dick. Goddess Harley wonders why he seems to be so good at it. Goddess Nina joins in and the slave is forced to deep throat both of their feet at the same time.
This another great foot worship clip from the Mean Girls! What I really liked about this clip is the Goddesses are having a blast degrading the slave with their feet. You can tell how much they are really enjoying this as they have big smiles on their face and they keep laughing out loud over and over at how they are able to make the slave do whatever they want! 
* To download this individual clip, click the "Add to Cart" button. (All clips are only $10.)PAYMENT FOR INDIVIDUAL CLIP DOWNLOADS ONLY PROCESSED VIA BITCOIN AT THIS TIME.