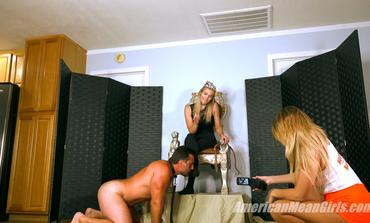 So this is the "Behind-The-Scenes" footage of "Foot Bullies". Some of you might actually like this clip better LOL. It is basically another camera that was filming Skylar AS she was filming this clip for me!! So it is like you are watching "the making of a custom clip". The backstory on Skylar filming this is that I was about to do it just using a tripod, but she came home from work just as I was starting filming, so I asked her to run camera for me! For the full backstory of the clip, see the description of "Foot Bullies". And this clip ALSO shows how Skylar literally fucking BEATS the slave with a whip for me during the breaks! Like if I even slightly complain about the footslave's enthusiasm, she puts the camera down and literally BEATS it for me! She is SOOO great!!!
She even makes it spread its legs so she can kick it in the balls SUPER hard a few times to "motivate" it to worship my feet better! (That was like NO supposed to be any part of the clip! LOL!) But WOW does it WORK! You can totally tell the slave's enthusiasm ramps up a notch after each well-placed kick that Skylar delivers to its nutsac! Haha. When she restarts her filming each time, the slave's foot worship is like SUPER highly enthusiastic! I guess he was terrified of another kick in the balls from behind from Skylar LOL! Anyway I got a WAY better clip out of it, and that is all that matters.
Princess Amber
* To download this individual clip, click the "Add to Cart" button. (All clips are only $10.)PAYMENT FOR INDIVIDUAL CLIP DOWNLOADS ONLY PROCESSED VIA BITCOIN AT THIS TIME.