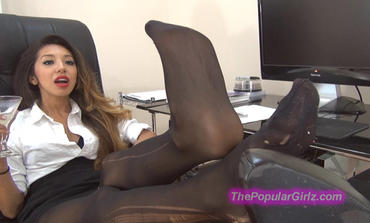 You foot-pervs are PATHETIC. And I can make you do whatever I WANT. As soon as I discover that some loser is obsessed with My FEET - the lowest part of My body - I know he is WEAK. And therefore, he can easily be taken advantage of. In fact, if I discover this, it basically means his life is OVER.
And I just discovered YOU perving on the soles of My shoes and My gorgeous feet in My hot dark nylons, so you know what THAT means....i am going to turn YOU into one of My MANY foot-slaves!!
In fact, I explain to you in explicit detail in this video how you are going to be My personal foot-slave FOR THE REST OF YOUR MISERABLE LIFE. My feet are going to be the sole focus of your pathetic existence FROM NOW ON & FOREVER.
This clip has a great scene where the camera (YOU!) actually laps at the dirty soles of my shoes with your miserable tongue! HAHA!!! So make sure you LICK YOUR COMPUTER SCREEN when this happens, loser!!! I even make you peel the stickers off the sole of My shoe "virtually" thru the computer screen! (you need to watch the video for this!) It's probably as close as you will ever get to actually licking the holy dirt off the soles of MY shoes.
-PJ
* To download this individual clip, click the "Add to Cart" button. (All clips are only $10.)PAYMENT FOR INDIVIDUAL CLIP DOWNLOADS ONLY PROCESSED VIA BITCOIN AT THIS TIME.