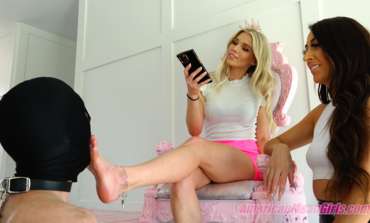 This loser had written in to serve us and said it needed a mask (GROSS!) Like we really dislike slaves that need masks, especially when they CANT take much pain. However, this beta had ONE thing going for it… it knew that because it couldn't do as much as we would have liked, it had to PAY $$$! So at the very least, we get to humiliate this loser and make money off of it, which is all we care about.
This loser had witnessed what a TERRIBLE slave looks like and therefore took it upon itself to do BETTER! Because it was more prepared and obedient, we allowed this freak to worship our feet! (A PRIVILEGE for betas!).
- Princess Amber
* To download this individual clip, click the "Add to Cart" button. (All clips are only $10.)PAYMENT FOR INDIVIDUAL CLIP DOWNLOADS ONLY PROCESSED VIA BITCOIN AT THIS TIME.