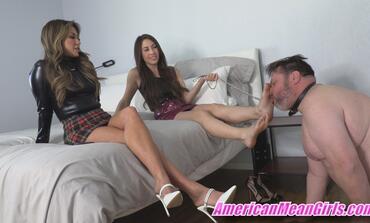 Princess Skylar has an AirBnB rental that includes REAL SLAVE-SERVICE for hot girls that rent her unit. The woman renting it (The beautiful Miss Lexi Chase) wonders why the rental price is so high. That is when Skylar pulls the "footworship slave" out of the storage room and shows off how to use it! It will worship your feet and do ANYTHING else you comand at the snap of your fingers throughout your stay!
Miss Chase is amazed..and impressed! It is now her turn to "use this loser"...and she loves that Skylar says she can be as mean as she wants to be to it! Coz sometimes she admits she can be kinda mean to waitstaff. But Skylar assures her that here it doesn't matter! Be as mean as you want to be to this "thing'! It exists to serve her!
* To download this individual clip, click the "Add to Cart" button. (All clips are only $10.)PAYMENT FOR INDIVIDUAL CLIP DOWNLOADS ONLY PROCESSED VIA BITCOIN AT THIS TIME.