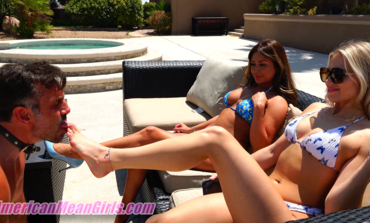 Lexi Chase and I (Princess Amber) are walking through Mean Girl Manor and stroll out to the pool, where a foot slave has been stationed all day in the blistering hot sun. We couldn't care less about its suffering- we want our feet WORSHIPED and we want it NOW! Slaves exist purely to serve a purpose for US- and foot freaks are meant to be used for FOOT WORSHIP!
Eventually, we literally have BOTH of our feet shoved down this loser's throat AT THE SAME TIME! We just love the power of shoving our feet down the throat of some loser that is obviously a lower life form than US and feeling its tonsils between our toes as it gags on our feet. HAHAHA
- Princess Amber
* To download this individual clip, click the "Add to Cart" button. (All clips are only $10.)PAYMENT FOR INDIVIDUAL CLIP DOWNLOADS ONLY PROCESSED VIA BITCOIN AT THIS TIME.