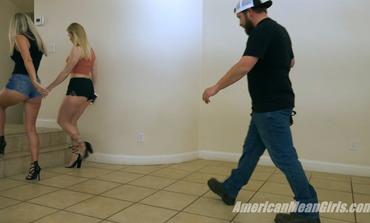 *Custom Clip*
Goddess Platinum and Princess Amber are having a problem with their garbage disposal.  They call a plumber in and put him to work under their sink.  (And yes, the garbage disposal at MGM was really broken! lol)
After awhile, the disposal is STILL not fixed!  Spoiled girls do NOT like to wait, so they start abusing the blue collar worker under their sink.  He tries to resist, and totally objects to being treated this way on the job, but these women are SO hot...and soon he is doing whatever they say.  
Amber especially is VERY spoiled and mean...she keeps dropping things on the floor "accidentally" and saying "oops"- and then making the plumber clean it up off the floor!  (She even makes him do it with his teeth!)
By the end of the clip the failed plumber is told that he needs to clean their whole kitchen floor and that if its isn't done good enough they may just store him under their sink and USE HIM as their "human garbage disposal"!