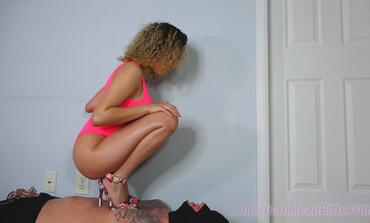 This is part 4 of a 5 part clip where the new slave is trampled 
Goddess Draya has a NEW slave to use however she pleases! It has been serving her for several months trying to PROVE itself worthy of
her time and POTENTIALLY be used at the Mean Girl Manor. Now that Princess Amber is running things, Amber doesn't have time to just use ANY slave that shows up at her feet… that's why Goddess Draya knew she had to test this slave out before introducing it to Princess Amber!
Over the course of its servitude to Draya, it was been working up to this moment from the very beginning and once Draya thought it proved itself "GOOD ENOUGH" she decided to FINALLY bring this thing to the desert compound for further evaluation. . Because this beta is too ugly to look at, Draya thought she'd turn this loser into her little GIMPY SLAVE. (Imagine being so gross that you have to cover your entire body just to be around us! HAHAHAH)
This is a series of clips where Princess Amber and Goddess Draya perform an OFFICIAL slave tryout. The Mean Girls use a variety of techniques to test out gimpy's pain tolerance and to determine how useful it can be to them. Have you ever wondered what happens at a SLAVE TRYOUT????? This is a PERFECT example of what to expect when offering up your dignity for our personal amusement ! AND because it needed a mask… it had NO CHOICE but to endure a bit of pain. Otherwise how are we supposed to make good content????
Gimpy KNOWS that this is ALL ABOUT US! We don't care what it "likes" or doesn't like, its about what will make us the MOST MONEY! Which is why we had no problem slapping, trampling, shocking, smothering, and ball busting it. Not to mention all the gross foot dust we fed it hahah! Despite being WEAK and PATHETIC, it agrees to let us do WHATEVER we want to it. (Which was pretty fucking difficult hahahaha) This is a GREAT way to see how devoted a loser is to serving us HOT GIRLS!
Miss Lexi Chase
* To download this individual clip, click the "Add to Cart" button. (All clips are only $10.)PAYMENT FOR INDIVIDUAL CLIP DOWNLOADS ONLY PROCESSED VIA BITCOIN AT THIS TIME.