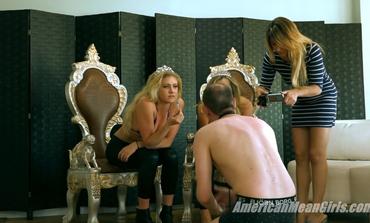 This is the part "The Return of Euro-Trash" where we make him lay his tribute out at Our feet- while we literally mock him to his face for it and take ALL the money he has saved up since the last time he saw us! I mean like we literally TELL HIM TO HIS FACE that we think he is pathetic for doing this AS we are taking all his $$$ from him! Haha.
We laugh about how hard he probably had to work for all this money- and how we are just TAKING it from him in a matter of seconds!! We then make fun of him by telling him how little we think of him, and how all he is going to get for this money is pain, suffering, and humiliation...
BTW this is TOTALLY REAL!!! No fake "roleplaying" or "scripts" here! This is a REAL slave of ours that REALLY came to see us and meet us!!
Princess Chanel and Princess Ashley
* To download this individual clip, click the "Add to Cart" button. (All clips are only $10.)PAYMENT FOR INDIVIDUAL CLIP DOWNLOADS ONLY PROCESSED VIA BITCOIN AT THIS TIME.