Goddess Draya Tramples New Teen Slave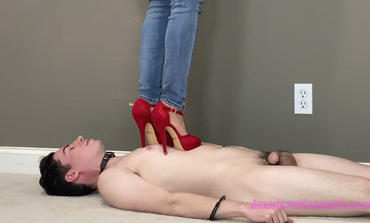 You know I'm brand new to the Mean Girls and you also know I'm hot as fuck... But did you know that I freaking love being a Mean Girl? I am soooo serious! I love destroying all these pathetic, submissive slaves! 
Before I started with the Mean Girls I didn't know very much about female domination, but after having the Boss Goddess, Goddess Platinum show me the ropes and teach me her ways, I am obsessed!!! I have been destroying mens hearts since I was little so it's only fitting that I also destroy their bodies and wallets. Lol!
But in all seriousness I was born to be a Mean Girl!
I was over at the Mean Girl Manor hanging out with Goddess Platinum discussing me moving in to the manor very soon, which I am super stoked about. Goddess Platinum brought me downstairs to show me her brand new 18 year old slave that she had locked up in a cage. When Platinum allowed it to look at me it instantly fell in love with me and offered up its life to me. Hahaha! No surprise there.
Since I have only ever trampled one loser in my life I figured I would practice on this freak.
I asked it if it had ever been trampled before and it never had. Well, well, well... Time to take this little bitches trample virginity and really step up my trample game. (Goddess Platinum talks from behind the camera like always ;) )
This was so much fun!!! 
$$$ Goddess Draya $$$