Goddess Kat Meet Up Part 4 of 4: Broken Balls Slave Exchange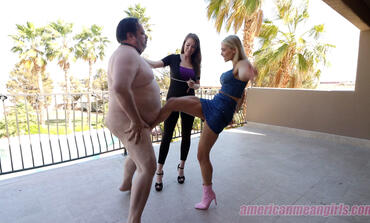 Like I said earlier in Part 3 of 4 - Goddess Kat's slave had it's balls completely pulverized by The Mean Girls. So as a fair trade and to be proper hosts to Kat - Princess Amber picked the slave we care about the absolute least so that Goddess Kat can take her turn breaking IT'S balls now!! An eye for an eye, right? Or should we say a ball for a ball? Anyways, this is the new exchange policy we decided on...
Delighted with the exchange Goddess Kat's powerful kicks have this disgusting slob is broken down and CRYING. So freaking pathetic. SO... it ends up getting sent right back to chastity and into his cage. Just so Goddess Kat can get ANOTHER 100 kicks in tomorrow!
- Princess Mia
* To download this individual clip, click the "Add to Cart" button. (All clips are only $10.)PAYMENT FOR INDIVIDUAL CLIP DOWNLOADS ONLY PROCESSED VIA BITCOIN AT THIS TIME.