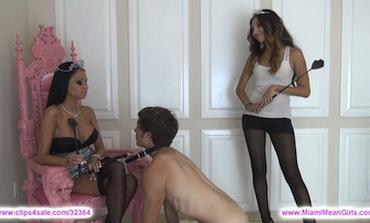 Introducing the newest "Mean Girl"- Goddess Raven! She has absolutely gorgeous feet and LOVES the idea of being able to abuse and boss around male slaves! (Not to mention she loves the idea of them WORSHIPPING her for it!) So we decided to give her a nice demo with one of our newest (and youngest!) slaves.
This one actually just had his 18th birthday and BEGGED to be used in our videos for whatever we wanted! So this was perfect. And Princess Jennifer is the perfect one to lead his abuse. She decides to show "Goddess Raven" how to play "Goddess Says" using this young slave. (He needs training anyway...lol.)
The rules are simple- it is basically "Simon Says" except with two Goddess beating on you and degrading you constantly. LOL. Eventually the slave doesn't know if it should obey or not...it is getting abused either way. Too bad. That is just how things are for slaves around here at Mean Girl Manor. LOL.
* To download this individual clip, click the "Add to Cart" button. (All clips are only $10.)PAYMENT FOR INDIVIDUAL CLIP DOWNLOADS ONLY PROCESSED VIA BITCOIN AT THIS TIME.