Goddess Reign Barefoot Bully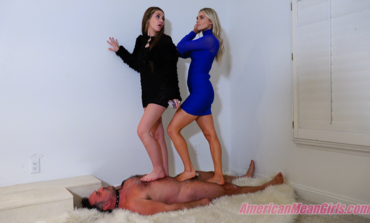 Goddess Reign is obsessed with being young, HOT, and SO POWERFUL! Basically every girls dream, but Goddess Reign has it all at 18 years of age! (Can you imagine how degrading that must be for this old ass dummy?) Reign BRAGS about how young and HOT she is, compared to this old loser! She makes sure to tell it EXACTLY what she thinks about its disgusting old loser body! Goddess Reign decides to REALLY let this loser have it, but literally STEPPING on its gross beta body.
Reign laughs as she bounces on its chest! its hilarious how little she cares about this loser, so long as she is having fun and draining its bank account! I walk in looking for Goddess Reign since we're supposed to leave on our double date. I couldn't pass up the opportunity to trample this ugly fck, so I make the uber drive wait just a LITTLE longer as I stand FULL weight on its face… I'm sure our driver will understand lol
- Princess Amber
* To download this individual clip, click the "Add to Cart" button. (All clips are only $10.)PAYMENT FOR INDIVIDUAL CLIP DOWNLOADS ONLY PROCESSED VIA BITCOIN AT THIS TIME.