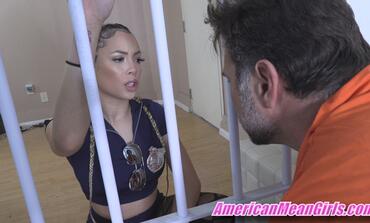 A prisoner has been held in the Mean Girl Punishment Compound Prison for quite some time now. It was put in here because it got caught breaking into the homes of hot girls and sniffing their old, well-worn shoes. Prison Guard Draya knows all its dirty little secrets and loves to torment the prisoner.
She decides to use its fetishes against it. She makes the prisoner BEG her to put a "good word in" for it so it can get out early for "good behavior". Well, Mean Guard Draya wants to see what all this "foot-sniffing" is about!
She makes the prisoner take her work boots off and DEEPLY inhale the fragrant aroma of her well-worn stockings that she has been wearing inside of her boots ALL WEEK. The prisoner is SO eager to do whatever Guard Draya says...so he sniffs as deeply as he can!! Draya says that maybe if he begs and sniffs her feet hard enough, she will put a good word in for him! The prisoner is so happy that he may get out soon!
Unfortunately for the prisoner, Guard Draya eventually decides that ALL the other female guards may want him to sniff THEIR feet and stockings too...which will delay his release considerably. And they all aren't nearly as attractive as Draya...
* To download this individual clip, click the "Add to Cart" button. (All clips are only $10.)PAYMENT FOR INDIVIDUAL CLIP DOWNLOADS ONLY PROCESSED VIA BITCOIN AT THIS TIME.