Hangover Foot Worship Remedy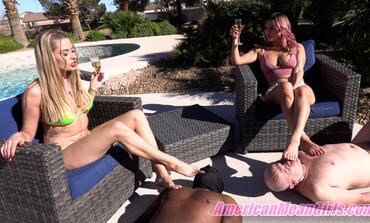 Probably the most grueling part about being a Mean Girl is dealing with the hangovers morning after morning after living the glamorous never-ending party lifestyle. 
If there was a way to transfer our hangover to our slaves believe me we would do it in a heartbeat!  But maybe we figured out the next best thing- having our slaves give us foot worship as we get some sun as we recuperate from last night.
Princess Alexandria and Princess Chanel are doing that as they plan out the next night ahead full of more wild partying and flirting with real men.  Of course the slaves never go out. They're relegated to being at the girls' beck and call at Mean Girl Manor, ready to cater to every whim that the Mean Girls require of them.
- Princess Amber
* To download this individual clip, click the "Add to Cart" button. (All clips are only $10.)PAYMENT FOR INDIVIDUAL CLIP DOWNLOADS ONLY PROCESSED VIA BITCOIN AT THIS TIME.