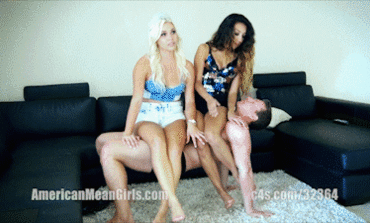 We decide to put the cushion-slave to better use. By making it get up on all fours BACKWARDS and use it as more than a cushion- it is going to now bend over backwards (literally!) to be used as a COUCH by BOTH of us! Being a chair was still just being too easy on it.
And of course as a COUCH, it should be able to support BOTH of us, right?? No matter HOW long we want to sit there and watch TV!
Eventually we decide to KICK IT IN THE BALLS EVERY TIME IT MAKES US FALL DOWN! Which is alot. LOL But slaves need to be taught how to OBEY COMMANDS!
THIS VIDEO INCLUDES: FACE SITTING, JEANS FACESITTING, HUMILIATION, HUMAN FURNITURE , BALLBUSTING