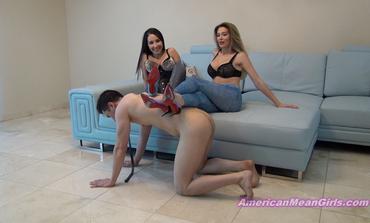 We all like to sit around Mean Girl Manor watching our fav reality shows. Sometimes we get really into it. So much so that sometimes we just want to kick something. That's why its always good to have a slave there to act as our human footstool so we have something to kick and take our frustrations out on. When we find out "who cheated on who" n stuff, we get so emotional the we punch and kick our human foot stool. Haha. And if it he moves, we just kick it harder for being a bad foot stool. LOL.
Me n Brooke are like really mean to this one. We even play mental games with it at one point, commanding it not to talk ("cuz furniture doesn't talk!") but then we keep talking to it- just trying to get it to talk back to us so we can beat it some more! Haha it is so much fun to command losers to be furniture for us at Mean Girl Manor literally all fucking day long (or sometimes even for a whole weekend!) and then just torture and abuse it the whole time...and it has to just TAKE it for as long as we want...
It's pretty pathetic though. You are so low and insignificant and SUCH a loser in life that just to be around girls as hot as me n Brooke you are willing to be literally used as nothing more than furniture. So we guess if that's the case, then you deserve to be treated like sht.
Princess Bella