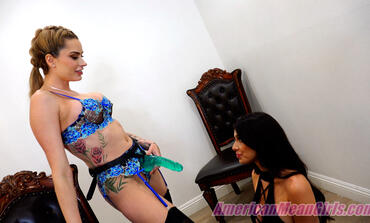 *(This is something very different than what we usually do here at American Mean Girls! But Princess Alexandria has some new female slaves that she likes using, so....this is what she normally does with them at Mean Girl Manor!)* 
My lesbian whore sub comes crawling into the dining room, begging me for something to eat. I like to starve my female slaves and constantly remind them of how "fat" they are. Its a great mind-fuck and keeps them under MY complete control. Plus skinny femsubs make be more income when I whore them out lol. I eventually decide to give her something to eat though...my COCK! And she better show me that she knows how to suck it good...or ELSE.
- Princess Alexandria
* To download this individual clip, click the "Add to Cart" button. (All clips are only $10.)PAYMENT FOR INDIVIDUAL CLIP DOWNLOADS ONLY PROCESSED VIA BITCOIN AT THIS TIME.