I Forgot I'm Trampling You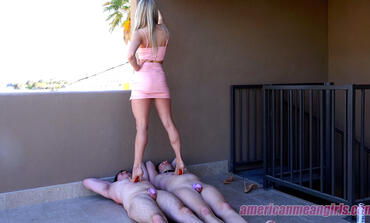 As the Head Mean Girl of the Manor, it's important that I take the time to relieve stress (and look hot while doing it). These two new betas have been going head to head to prove themselves worthy of my time and attention (good or bad lol) which is why they so eagerly volunteered to partake in my relaxation time. The balcony at the manor is one of my favorite spots to relax. It's the highest point you can physically be (which means all other losers are literally beneath me, and knowing that brings me so much peace). 
As I stand on these beta males, I focus on myself and how HOT I look. My camera captures the BEST angles of me (SPOILER, ALL MY ANGLES ARE PERFECT) Picture after picture, I stand and pose in different positions as I live in the moment through the lens of my camera. You can hear another slave yell as some Mean Girls play with it downstairs. It really sets the mood for TOTAL relaxation. I sip on my tea and just enjoy the warm weather, standing tall. When I find myself getting too much in my head, I change into my favorite stilettos and feel instant relief. I actually forgot I was trampling these losers! It's like they're in some beta competition to take more pain (lol) I encourage them to be good boys for me and remain trampling them long after I've finished relaxing. 
- Princess Amber
* To download this individual clip, click the "Add to Cart" button. (All clips are only $10.)PAYMENT FOR INDIVIDUAL CLIP DOWNLOADS ONLY PROCESSED VIA BITCOIN AT THIS TIME.