If You Can Pose On A Slave You Can Pose On A Stage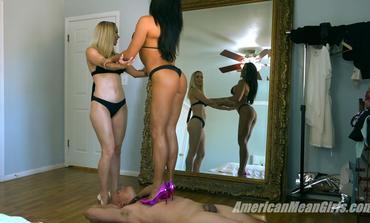 Goddess Tina and I are both BIG into fitness. Tina actually competes and has a competition coming up! She mentions to me offhand that she is having trouble posing on stage in her stiletto heels and maintaining her balance. So I offer her something that has worked for me in the past- posing on someone else's squishy, bony, uneven body! Tina wonders who the heck would be so pathetic that they would actually ALLOW her to step on them and literally WALK ALL OVER THEM like that?? And in her STILETTOS on top of that??
Then I offer up to her one of our slaves to use as her personal "practice stage dummy"! She can't believe we can just USE him like this! But she absolutely LOVES it! I just explain to her that we are so hot that losers like this feel LUCKY just to be stepped on by women as hot as us! And then I explain to her that if you can stand on a slave, you can stand on a stage! It takes a little bit of practice (and a LOT of pain on the slave's part!) but eventually Tina's heels are digging into the slave while she is hitting all her poses. And by the end we are doing "victory poses" to celebrate her posing balance improvement!
-Goddess Platinum
* To download this individual clip, click the "Add to Cart" button. (All clips are only $10.)PAYMENT FOR INDIVIDUAL CLIP DOWNLOADS ONLY PROCESSED VIA BITCOIN AT THIS TIME.