Jungle Goddess Get Boot Worship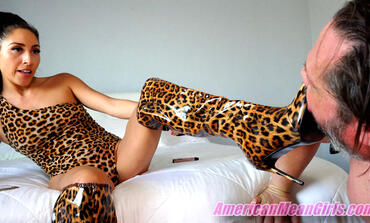 Princess Skylar has been invited to the most exclusive costume party of the year. Normally she would bring her hot boyfriend but this year she got a better idea. She wanted to bring her fat slave and humiliate him in front of all her friends by making him worship her boot in public. Before they leave though P. Skylar wants to practice the stunt to make sure everything goes to plan. 
* To download this individual clip, click the "Add to Cart" button. (All clips are only $10.)PAYMENT FOR INDIVIDUAL CLIP DOWNLOADS ONLY PROCESSED VIA BITCOIN AT THIS TIME.