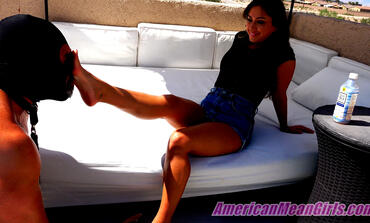 Miss Lexi Chase wants to make this slave worship her sweaty feet after they have been inside her leather flats all day. She knows the flats make her feet smell and sweat- which makes it even more of a power trip for her to command this slave that is twice her size to lick and kiss her feet RIGHT after they have come out of her leather flats!
Oh, and to make it even crueler, the deck has been scorched under the hot desert sun all day as well...so the poor slave feels like he is kneeling on a flying pan...while Miss Chase reclines in comfort and luxury on the daybed above it.
But She could not care less how much the slave is suffering for her. In fact, she LOVES making slaves suffer for her. It is such a power trip for her. She even stomps full-weight on the slave's hands as she makes it literally BOW DOWN to her on the hot deck and BEG to worship her feet!!
* To download this individual clip, click the "Add to Cart" button. (All clips are only $10.)PAYMENT FOR INDIVIDUAL CLIP DOWNLOADS ONLY PROCESSED VIA BITCOIN AT THIS TIME.