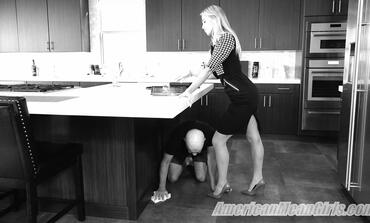 *(This is a "Femdom parody" of the 1950's show Leave It To Beaver"...)
Princess Amber is a MEAN stepmommy to this old man that she calls "Geezer". It is so odd that she is SO much younger than this old man, but yet SHE is his "stepmommy" by marriage! This odd pairing leads to all kinds of highjinks!
See, Amber only married this old man's papa for his money, knowing that he wouldn't live very long and she would be RICH! But when the REALLY old man finally passed away and she inherited all his money, there was a requirement in the will that she continue to be a stepmommy to this old geezer son of his! Needless to say, Amber is SO mean to her step-son!
She makes him do ALL the chores around the house (he has to clean it spotless TWICE a day!) and all the yardwork, and rub step-mommy's feet whenever she snaps her fingers. If this old man is going to live under her roof, it will live under HER rules! But this pathetic old man is always causing problems for Amber and it needs to constantly be punished so that it is reminded of the "house rules"!
In this episode of "Leave It To Geezer", Amber comes home and walks into the kitchen where The Geez is cleaning the floors, when she decides that the kitchen is NOT clean enough for her liking! So it is time for The Geez to take off its belt and hand it over to step-mommy...she will teach him a lesson in DISCIPLINE.
Stepmommy beats her 60 year old stepson black n blue until he is BEGGING to get back to cleaning and he will try to do better for stepmommy! But then he makes the mistake of asking if he can go to a funeral for one of his old friends...ABSOLUTELY NOT! Amber lets him no in no uncertain terms that he will NOT be seeing ANY friends for the next few weeks, as he is now GROUNDED. He will e WORKING and PUNISHED all day, every day for quite some time.
When "The Geez" dares to just slightly complain, Amber decides that it is time for him to go fetch "Mr. Cane"...and The Geez haaates "Mr. Cane"! Mr. Cane hurts sooo bad!! Geezer literally throws himself at the feet of his mean stepmommy, kissing her stockinged feet and BEGGING her that she doesn't need to punish him anymore! He swears he has learned his lesson and will GLADLY keep her house SPOTLESS 24/7 for weeks on end if t will just make her happy with him! But it is too late...Amber WANTS to punish him some more, as the truth is...she just LIKES punishing this pathetic old man. And she doesn't even really need a reason. Because SHE is the stepmommy here and she can do whatever she wants! So she goes off to fetch "Mr. Cane" herself...
* To download this individual clip, click the "Add to Cart" button. (All clips are only $10.)PAYMENT FOR INDIVIDUAL CLIP DOWNLOADS ONLY PROCESSED VIA BITCOIN AT THIS TIME.