Loser, its Cold Outside- Smoking Addition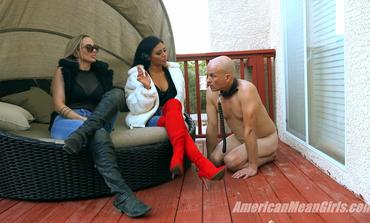 Tina and I are all bundled up in our fur coats, boots, long pants- you name it. Meanwhile, this pathetic wretch of a slave of ours has been kneeling naked like a fool in the cold all morning, just waiting to be used as a human ashtray during one of our Smoke breaks during filming.
He has seriously just been waiting out back on the porch of the new Mean Girl Manor for our ashes- or until we need to beat him in a clip lol. Fucking pathetic...but he will have his wish. Along with a healthy dose of humiliation and spit in his face.
* To download this individual clip, click the "Add to Cart" button. (All clips are only $10.)PAYMENT FOR INDIVIDUAL CLIP DOWNLOADS ONLY PROCESSED VIA BITCOIN AT THIS TIME.