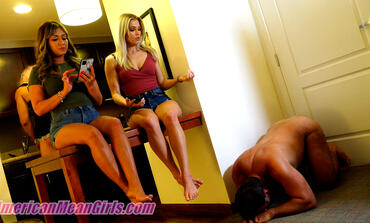 As a Mean Girl, it's a daily ritual to have our feet worshiped. There's just nothing else like having some losers tongue lick the sweat and dirt from between your toes. Plus it really shows the loser where it's place is (BENEATH US!) Princess Lexi and I sit on a table (looking HOT) and dangle our foot over this pathetic mutt's face. He whines for our feet. Eagerly wanting to please us and polish our pretty toes with his mouth. Strawberry is in the kitchen cleaning up our mess. We rented him out to the hotel to make money off of him. (I mean, If he's not making us money then what good is he to us?)
He even dressed up in a maid's outfit so you KNOW what its purpose is. After my foot have been cleaned, the foot slave moves on to Lexi's perfect little feet and I sit on Strawberry while I make him clean the floors by hand LOL. It's SOOOO important to let these losers know who THE BOSS is and that they literally mean NOTHING to hot girls like us.
- Princess Amber
* To download this individual clip, click the "Add to Cart" button. (All clips are only $10.)PAYMENT FOR INDIVIDUAL CLIP DOWNLOADS ONLY PROCESSED VIA BITCOIN AT THIS TIME.