My Champagne Lifestyle - (A "Mean Girls Classic")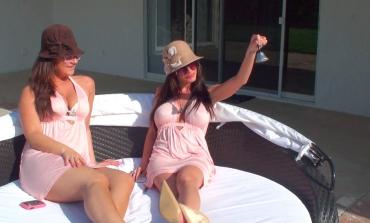 THIS is the kind of life I live, SLAVES- while you live your miserable little pathetic existence...luckily, we BOTH realize that the only thing that could really make your wretched little life worth living is dedicating it to making MINE even BETTER!
Watch as I show off to My GF by ringing My "champagne bell" and having My servants scurry over to us on their f*cking hands and knees to deliver our champagne to us!
Then as we are sipping it (and mocking these pathetic losers that serve us) I show my GF what other uses I have for them- and command them to begin worshipping our feet. Mine are filthy from walking at the beach earlier in the day so I even call over another one of my beasts of burden to WORSHIP Me- so I have one slave-mouth for each foot while I sip My champagne in comfort! LOL!
THIS is the life I was born to live! And you probably wish you were serving ME too, DON'T you, loser??? Well, the FIRST thing you can do is BUY THIS CLIP!!!
GR
* To download this individual clip, click the "Add to Cart" button. (All clips are only $10.)PAYMENT FOR INDIVIDUAL CLIP DOWNLOADS ONLY PROCESSED VIA BITCOIN AT THIS TIME.