My Shoe Bitch Humiliated In Public Part 2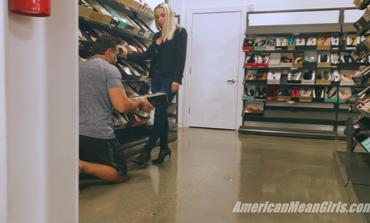 This is an absolutely REAL video shot IN PUBLIC where I lead my foot-obsessed shoeslave into a shoe store, boss him around in front of eveyone in the store, make him try shoes on my perfect feet, and then USE HIS BALLS to test the shoes to see how good they are for ballbusting! And I command him to take ALL my kicks IN SILENCE because we are in a public place, after all...LOL.
Even with his (almost) silence, we were still getting some prettty weird looks haha. I love humiliating these freaks in public.
-Goddess Platinum