New Slaves Trample Tryouts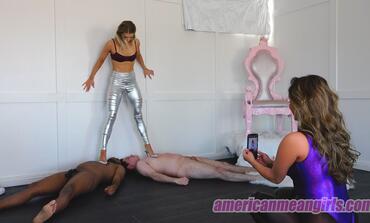 Princess Amber and I have been getting a TON of slave applications. Its always a lot of fun because we are CONSTANTLY testing the limits of all of these losers. There's just this AMAZING feeling you get when you beat a slave for the FIRST TIME haha. The fear in their eyes, eagerness to serve…. And the screams of their breaking points hahahah (its ALMOST orgasmic!) Because of this influx of slaves, Princess Amber thought it would be a good idea to start doubling them up in during their tryouts!
These two new slaves both drove for HOURS just to have the opportunity to "prove themselves" worthy of the Mean Girls LOL. They had NO IDEA what was in store for them, but it literally didn't matter because they KNEW they were just their for our OWN benefit, profit, and AMUSEMENT! It was their first time getting trampled (in heels that is… one of them claimed to have been trampled but getting stepped on by your step-sis doesn't count haha) We wanted to tease them a little and start barefoot. Losers who can't take trampling can usually take SOME barefoot. So these dummies thought they were getting off easy when we trampled them with our naked toes lol. Buuuuuut we got bored really quickly and put on some converse haha. Still not THAT painful, but not very pleasant compared to bare soles lol. We stomp around on the slaves and gossip about this and that. We actually start to lose track of time before we remember they are STILL beneath us lol… they were fairly quiet, which meant they could probably handle MORE pain lol
Amber and I switch to our stiletto heels…. That's when these idiots became a little more vocal hahahaha. Normally when we trample slaves, they are yelling at the get go, but not these losers! You could definitely tell it was HARD for them but I think they were secretly in competition! Both being new slaves, they wanted to "impress" us and be better than the OTHER slave hahaha. It honestly worked out GREAT! Princess Amber and I had a BLAST digging our heels into them… that is until one finally gave up and couldn't take anymore lmao. Can ya guess which is the BIGGEST loser?!? LOL
Lexi Chase
* To download this individual clip, click the "Add to Cart" button. (All clips are only $10.)PAYMENT FOR INDIVIDUAL CLIP DOWNLOADS ONLY PROCESSED VIA BITCOIN AT THIS TIME.