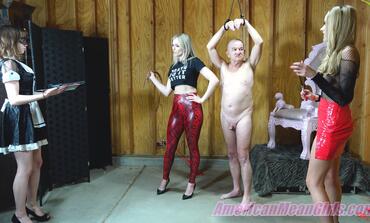 ...And his back is really all we are interested in.  Because we want to BEAT it and SLASH it the way it deserves.
So this old slave was begging to come back after about of year of trying to be "normal".  LOL whatta joke.  SLAVES can't be "normal"!  They are born to be SLAVES.  That is why they exist!  So of course, in order to get back into our good graces, it must pay restitution with a merciless whipping...
Oh, and Princess Alexandria had one of her female slaves there as a french maid to tend to our needs and present us with our selection of play toys to beat our slave with.  The poor female slave was sooo obedient, especially when she saw how we punish this male slave...
-Princess Amber