Outrageous Heels Trampling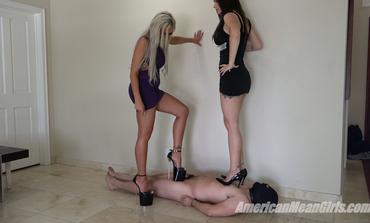 ***This is being written by the new "clip description slave" that has been commanded to watch all Mean Girls' clips and do all their writeups from now on because they shouldn't have to do their own writeups. This is how I serve because I cannot live at Mean Girl Manor. I am to watch, review, and give a complete and fair description of each clip from a slave perspective to all potential clip-buyers before deciding to make their purchase.***
The slave is really in for it now! Goddess Nina and Goddess Harley have brought out the special new trampling shoes! These special shoes have outrageously long and sharp high heels designed to cause maximum pain to the slave. They can't wait to try them out for the first time! Goddess Harley starts things out by stepping onto the slave's inner thighs and digging her heels in deep. The shoes seem to be working because the slave is in a tremendous amount of pain. As bad as Goddess Harley's shoes are, Goddess Nina's look to be at least 10 times worse. The heels are so long and narrow they look more like skewers then heels. Goddess Nina asks the slave how he'll handle hers if he can't even handle Goddess Harley's smaller sized heels.
Sometimes I wonder when watching certain trampling clips if it really hurts that bad. This is not one of those clips! The shoes that Goddess Nina is wearing in this clip are truly frightening. I felt pretty certain when watching this that Goddess Nina's heels were going to go right through the slaves skin and impale him. If you enjoy really painful trampling with outrageously high heels then you need to buy this clip. Overall, on a "slave scale" of 1-10, I give it an "8.5."
* To download this individual clip, click the "Add to Cart" button. (All clips are only $10.)PAYMENT FOR INDIVIDUAL CLIP DOWNLOADS ONLY PROCESSED VIA BITCOIN AT THIS TIME.