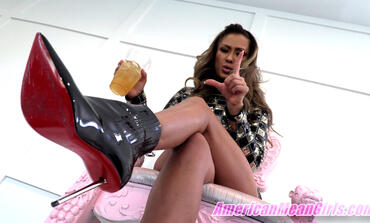 Even vanilla guys literally throw themselves at my feet and BEG to see them- my tiny little size 5 feet are THAT cute! Their high arches just drive people crazy. But a foot freak like YOU? OMFG...you can't even stand it. And I just find it SO funny to take advantage of that! And you are so fucking pathetic that you will LET me take complete advantage of you and laugh in your face while you drool over my feet, won't you? Of COURSE you will!
Just think about how my little feet have been sweating inside these boots all day...
Watch this clip to hear how I make you BEG for them while you kneel before my throne like a foot fool.
Oh, and this clip contains my personal payment & contact details for you foot losers that are REALLY desperate for my attention and want to TRIBUTE me the way I DESERVE!!!
- Miss Lexi Chase
* To download this individual clip, click the "Add to Cart" button. (All clips are only $10.)PAYMENT FOR INDIVIDUAL CLIP DOWNLOADS ONLY PROCESSED VIA BITCOIN AT THIS TIME.