Peeping Tom Gets a Workout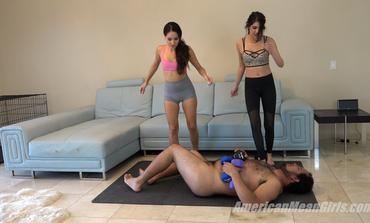 If you EVER get the idea to spy on us when you should be scrubbing a floor or washing our cars instead...we will fuck you up for it. This mexican slave wasn't doing whatever his job was, I don't know and don't care what it was but it wasn't WATCHING US while drooling. So Princess Bella and Princess Aria put his ass on the ground and are gonna drop dumbbells on his big flabby belly. He wants to be a part of the workout so bad, right? So OK loser, you can be our floor mat, lick the bottoms of our shoes, be our stair master, and just be all around miserable on the ground while we literally walk all over you for being a peeping little bitch. Bet you won't get the idea to snoop around where you aren't supposed to after the pain we'll put you through!
* To download this individual clip, click the "Add to Cart" button. (All clips are only $10.)PAYMENT FOR INDIVIDUAL CLIP DOWNLOADS ONLY PROCESSED VIA BITCOIN AT THIS TIME.